Art Gallery
Jill Dickin Schinas began her fine art career many years ago in an old tide-mill on the shores of Chichester Harbour (England), but for the past twenty years her studio has been a travelling one - the cramped cabin of a sailing yacht called Mollymawk.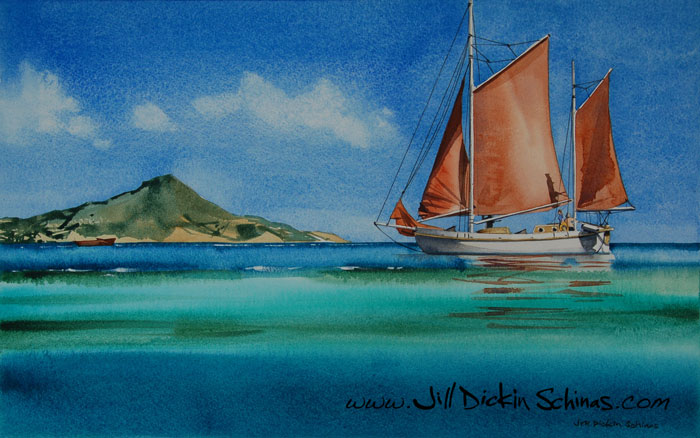 Having spent her whole life messing about in boats of one sort or another, Jill is particularly attracted to maritime subjects and to seascapes, and she has a sailor's knowledge of boats and of waves.
Although principally a marine artist she also enjoys capturing the scenery and the action in the places which she and her family visit in their sailing home.

Jill Dickin Schinas has held numerous one-woman exhibitions and has also exhibited in London with the Guild of Aviation Artists and with the Royal Society of Marine Artists.
Besides producing fine art paintings and drawings Jill also undertakes commercial work, and her line drawings and cartoons have been used to illustrate books, magazines, and leaflets, to adorn letterheads and websites, and as T-shirt designs. Her paintings have been used on public information boards and greetings cards.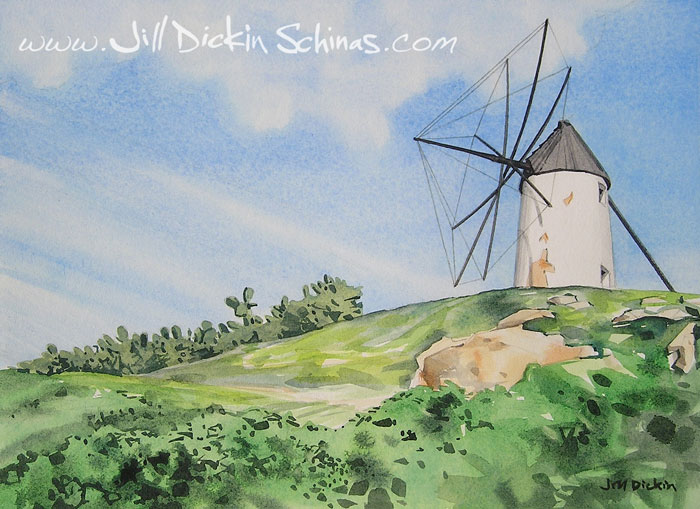 This online gallery displays a selection of work which has been divided into categories : watercolour, oils, pen-and-ink drawings, cartoons, graphic design (logos etc).
For information about prices or to commission work, please use the contact form to get in touch.