A Yacht Accompanied by Seals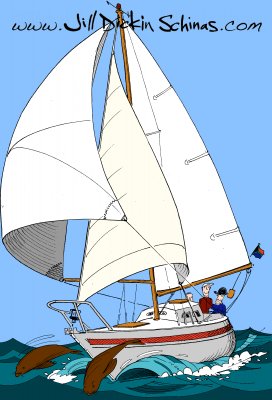 This cartoon was commissioned by the crew of the yacht for the owner's birthday. It shows a small yacht accompanied by two seals.

You may like to compare this picture with the one of an Open 60. Like that picture, this one began life as a black and white line drawing. The colours were added after it had been scanned. Computer technology allows one to play around with a line-drawn cartoon, producing several different versions whilst still retaining the original intact.

Black and white cartoons are ideal for use as book illustrations, letterheads, and logos. Coloured cartoons are ideal for T-shirt designs, website illustrations, and personal greetings cards.