Masked Penitents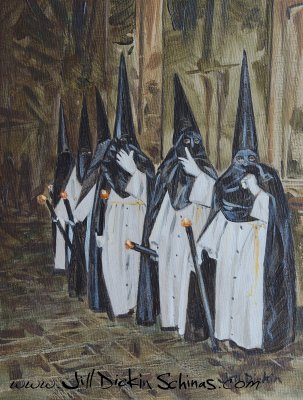 Masked penitents waiting in a side alley in Alicante. Yes, they do look rather sinister - but, actually, they are on their way to church. They are not about to jump on anybody, and contrary to what many English tourists believe they are not in any way related to the klu-klux clan.

Traditionally cloaked and masked to conceal their identity, and so hinder any attempt at ostentatious piety, these people are taking part in the annual Easter celebrations which occur all over southern Spain.

(Oil - approx. 11 x 7" / 28 x 19cm)
To view the penitents in more detail, follow this link.